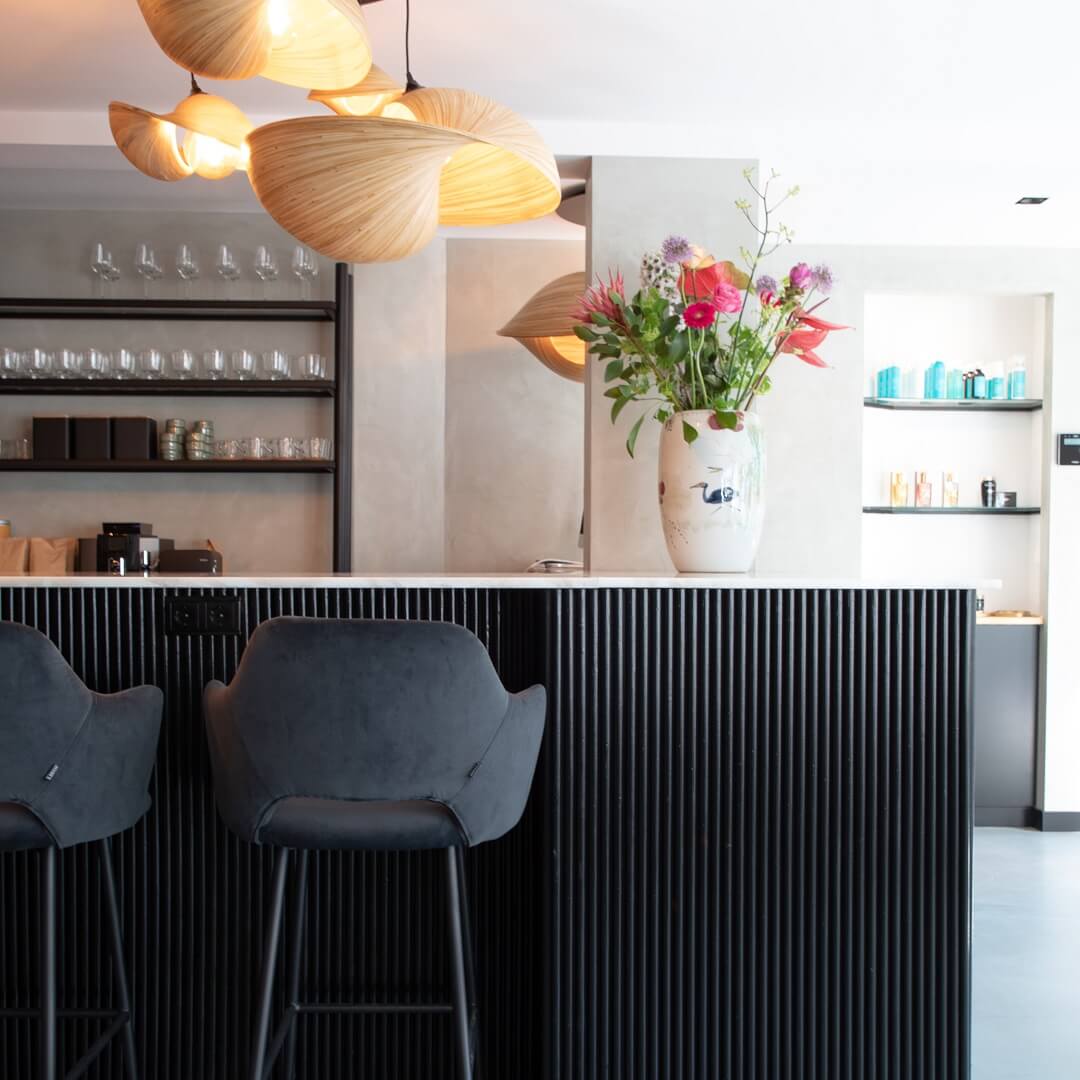 Who are we?
IT'S A BEAUTY AFFAIR is a luxurious and comfortable salon in the Pijp,
Amsterdam, where our specialists in the total field of beauty
treatments are ready for you.
Choose between a quick hair touch-up, a relaxing manicure or
pedicure with a friend, a laser & browlift combo treatment and a full facial. We offer you an endless package of
beauty treatments, all under one roof!
While you let our stylists inform you precisely, we provide
a delicious cup of coffee, tea or other drink. By following the
latest trainings, trends, developments and the use of the best products we deliver top quality. We are not satisfied until you leave happy
.
We would like to invite you to visit our
salon without any obligation in order to sample the atmosphere and answer all your questions!
Our customers have their say...
Great salon with very nice but more importantly knowledgeable staff. Been once and haven't been anywhere else since!!!

Parisa Panahi
16:07 02 Jan 23

I'm super difficult when it comes to going to the hairdresser. Always had long hair half way the 🍑, but cut it 2 years ago, drastically.It was already out of shape, long and heavy. Isha has cut it back into shape with bangs, giving me again dancing hair. Very happy! Will come back for hair and nails as its just down my street where i work!

Great, they did my hair extensions installation and it feels and looks great 🙂 .

One of the best Brazilian waxes I have gotten. Went with "sugar wax" which I've never heard of before but was amazing. Thank you.

My beauty affairs were handled beautifully 🙂 It is a warm and stylish atmossphere, easy to book, super nice and skilled employees.

Sandrine Lang
14:35 14 Oct 22
I didn't have an appointment but luckily Manon was available and she gave me the best haircut I had in a long time. Super happy with it. Very nice place totally recommend it!

ioana Enescu
06:16 13 Oct 22
This was my very first time in "it's a beauty affair" salon and immediately felt at ease. A very sweet woman Shar helped me with the BIAB treatment and my nails look great. She proceeded very skillfully and gave good explanations! I will definitely come back!!!!

Celine Sewnath
08:05 09 Oct 22
Yes, leadies! Giusi rocks.Got a peeling spa treatment with shellac.

I had my hair cut/dyed( highlights/ balayage) by Mara. Then showed Mara some pictures of what I wanted and I was totally satisfied with it. Overall, the service at It's a beauty affair is just good.I will be visiting again soon#HAIRCUT

Angeline Cardano
18:33 06 Oct 22
I have been sugaring for 10years with the same person and I moved to Amsterdam and had to look for someone new and it hasn't been easy at all but when I found this place and I am so happy with their service! I tried many places before but they have been the best! Especially Thais was amazing making sure she got all the little hairs.

Chantal Croes
02:40 05 Oct 22
I have been going to IABA for two years to dye my hair. Never done before this and I have curly hair so am very careful with this. Since then very satisfied with their services! Price-quality ratio is nice. Atmosphere is good, it is very clean and the employees are very friendly. You notice everyone here has a lot of experience so I always feel confident enough to say to them, "work your magic!" as it always turns out beautifully. Definitely highly recommended 🙂 #haircut

sophie van duijn
11:57 04 Oct 22
whole hair coloring had. then beautifully blow-dried into shape #HAIRCUT

Such a lovely salon, great atmosphere and wonderful service. Always really happy with my treatments here.

Elan Meyer
09:53 04 Oct 22
High End salon with fair prices and a good quality

Hans van Vliet
19:18 03 Oct 22
What a wonderful salon this is! I started my first BIAB manicure here, and I enjoy coming back every month. The vibe is very relaxed, very personal; really take the time for you, and they have mega attention to detail! My nails are always done by Jamie, and time after time I hop out the door with perfect nails and a good mood 🙂 The beautiful decor and wide range of treatments makes this the beauty Valhalla of Amsterdam 🙂 #HAIRCUT

Great haircut by Finn! I have to drive an hour for it but I am definitely willing to do that. And it's always fun with her too 🙂 topper!

Fine place for eyebrow shaping and coloring. Very friendly and professional. #HAIRCUT

Femke Pragt
17:22 03 Oct 22
Very knowledgeable and friendly staff. Hair coloring (faceframe) and cutting was super well done. Highly recommended! #HAIRCUTVery knowledgable and friendly staff, I went for coloring and a haircut and they did an amazing job. Would recommend!

Esther ter Horst
17:01 03 Oct 22
I always come here to let Finn do my hair and it looks amaaaazing always. She masters the balayage and after the olaplex treatment my hair feels silky smooth. Would love to stop by soon (: #haircut

Fenna van Dijk
16:25 03 Oct 22
Visited a couple of times for a #haircut and always very happy with the result! Very friendly and professional 🙂

Anniek Blaak
15:01 03 Oct 22
Beautiful salon. The whole team pays so much attention to their clients and their personal needs. Highly recommended.

Eleonora Torassa
14:53 03 Oct 22
I never want another hairdresser and can recommend it to everyone! They listen carefully to what you want and the result is always top. Also, the salon is super nice and clean and you are always helped very nicely. Staff is very friendly and makes you feel at home. Highly recommended!

Jessica Poel
14:08 03 Oct 22
I had a great first experience! Fast and thorough, my beautiful shellac nails were done in half an hour and I had a lovely chat with my nail artist! Thank you 🙂

Have been to have my eyebrows done with string by beautician Tamara. Very friendly and professional. Am very pleased with the outcome. She keeps to your natural shape, but definitely makes sure everything looks neat and tidy.Definitely come back for another appointment!

Adinda Felix
18:53 07 Sep 22
Very nice experience! I was in Amsterdam for a couple of days and wanted to get my nails done! Great service, all the staff is very friendly, had such a nice conversation with the girl who did my nails, and they offer you always something to drink! The place is very pretty and prices are good!

Patricia Langa Diaz
14:41 16 Jul 22
I have been going to It's A Beauty Affair for BIAB treatment for a while now and I don't want to go back! Carina is great with nail art and makes the most unique nails. I am very happy with it!

A van Loenen
09:46 04 Jul 22
Amazing service, great atmosphere and great haircuts! Going to 'It's a beauty affair' is a must if you want a great, relaxing experience and go out with your hair looking amazing. Everybody is very professional, but personal at the same time. I can only recommend to go here and enjoy!!!#experience #curlyhair

Pia Potthoff
09:03 22 Jun 22
Anouska is the hairdresser who has been the only one I love to come back to! Not only is her expertise perfect, but she is also the most sociable hairdresser in the Netherlands if you ask me!) Nothing but praise for this wonderful salon; it is worth every penny of your visit!

Anne van Kleef
22:28 21 Jun 22
If you have a busy life, you don't always have time for all the separate appointments for your beauty business. I do all my appointments here in one day, from colouring my hair, cutting it, washing it and blow-drying it, to doing my nails and painting my eyebrows and eyelashes. I'm so happy with all the girls, I always walk out the door super happy!

Claire Oei
10:51 21 Jun 22
it's a beauty affair
Join our team!
Do you want to be part of THE best beauty team in Amsterdam? We are always looking for beauty talent.